Guess What Day It Is: Week 21
Dear Daytrippers,
I am driving through "horsey country" Kentucky – with more than 450 horse farms in the region, Lexington is the "the horse capital of the world". On this brilliant morning I find myself humming "the sun shines bright on my old Kentucky home" as the road meanders through bucolic farmland with horses frolicking in pastures behind pristine white rail fences and elaborate gates, where they live in majestic barns that look nothing like a barn. I get a distinct feeling that these horses consider this routine instead of eye-popping. There really is nothing quite like the beauty of these rolling hills to take your breath away.
I learn that for a mere $7,300,000, I could make my mark in the Bluegrass – 365 acres, historic 1830's main residence, magnificent formal gardens, a carriage house, 5 barns with 74 stalls, indoor arena and 3 auxiliary residences. Temptation flickers.
Back to reality, everywhere you look you see all things horse, murals of horses, horse statues, horse parks and farms. My destination is the Kentucky Horse Park – 1,200 acres of lush pastures, pristine grounds, a showcase of museums, galleries, theaters and nearly 50 breeds of horses – all dedicated to man's relationship with the horse and the almighty attraction. The winter season slow-down combined with Covid 19 restrictions make for a quiet day at the park. I am thinking about the only horse I ever knew – a tiny pony who lived in my parents field by the old barn – he was pure evil – he would ransack your pockets for carrots or sugar cubes and if you failed to bring any he would rip open your jacket in annoyance – he once escaped his enclosure and it took approximately half the population of Cave City and all the city police cars to corner him – clearly my understanding of the bond between horse and man is antidotal. I am alone in the theater while viewing the introductory film – 'Rein of Nobility', which brings the story of the horse to life and serves as an introduction to the special world of the horse found at the park. The trolley isn't operating but it is a pleasant day for walking. There are hundreds of horse stories to be found in the park and I am sure you will all have your favorite but for now I am sharing the story that touched my heart. I would like to introduce you to Sergeant Reckless. She was a war horse for the US Marines during the Korean War. Purchased for just $250, the Mongolian mare would prove to be an important addition to the Marines. During the Battle of Outpost Vegas in 1953, Sgt Reckless made 51 trips in a single day to carry ammunition from the supply camp to the front lines. The majority of these trips, Reckless completed by herself. The little mare carried close to five tons of ammunition; walking almost 35 miles while under enemy fire. She also carried wounded soldiers from the front lines on the return trip. Even after being wounded herself, Sgt. Reckless didn't slow down or stop. She was loved and respected by the Marines she served with and her amazing performance during the Battle and throughout the war lead to her being promoted to the rank of Staff Sergeant. Sgt. Reckless was given two Purple Hearts along with many other Military Decorations for her service. Sgt Reckless died in May of 1968 and was buried with full military honors at Camp Pendleton.
Lexington is also rich in history, so back in town I visit Mary Todd Lincoln House, the girlhood home of the First Lady. This simple two story brick building was built in 1803 as an inn called "The Sign of the Green Tree" before its purchase by the Todd family. Mary Todd was not born at this house but moved here with her family in 1832 when she was 14 years old. The elegant simplicity of Mary Todd Lincoln's early home exemplifies the sure taste of a southern aristocracy that lived with all the grace of its eastern and European counterparts. In the Todd drawing room, Nelson, the family butler, splendid in his swallow-tailed livery, served his famous iced juleps to an aristocratic circle. It was here that Mary eventually married a young lawyer named Abraham Lincoln in 1842. Here in Lexington, as Mary Todd's husband, Lincoln had access to a dazzling array of political minds, including that of his "beau ideal of a statesman," Henry Clay, whose rhetoric and arguments against slavery resonated clearly through many of Lincoln's speeches. The Mary Todd Lincoln house is the first historic site restored in honor of a First Lady.
A contemporary, good friend and close neighbor of Mary Todd's father Robert S. Todd, Kentucky statesman Henry Clay built his mansion, Ashland, in 1812 in Lexington. Clay served as a U.S. Senator from Kentucky, Speaker of the House, Secretary of State, and a 3-time Presidential candidate, known as the "Great Compromiser". His estate, Ashland, which features a walled garden and walking trails is as beautiful inside as out. It sits on 20 acres that are a National Historic Landmark, the centerpiece of the famous 'Millionaires Row' neighborhood. The gorgeous streets of mansions on well-manicured lawns have a definite "old money" vibe. Brick walls, iron gates, grand entrances and tall well-trimmed hedges in a storybook setting makes walking this neighborhood a must for anyone who appreciates elegant older homes. Its curving lanes and mature trees are the result of thoughtful planning by the famous Olmsted brothers in the late 1800s. In fact, the entire neighborhood is now on the National Register of Historic Places.
This may seem an unlikely stop but Lexington Cemetery is worth a visit. Not only is Henry Clay buried at Lexington Cemetery, but other notables are also buried within the 160 acres. This cemetery is on the National Register of Historic Places. It is one of the prettiest cemeteries I have seen. Not only did I find an arboretum, gardens and a small lake, but a 130-foot tall Henry Clay monument sticking up above the trees. They say that Henry Clay is looking towards his beloved Ashland estate.
My day is in the final lap but I couldn't cross the finish line until I sample some blue ribbon Kentucky fare… the famous Brown Hotel, where the iconic Hot Brown was born, is not open to indoor dining but I was able to get take out – in case you haven't been lucky enough to try this treat, believe me it is something special. Served open-faced this sandwich of turkey, bacon and mornay sauce is broiled to a golden perfection. So delicious… and by great good fortune my take out order came with a bag of bourbon balls – this rich candy is made with bourbon in a cream center dipped in dark chocolate with a pecan on top – it's a good thing there were only three in the bag. If you were here I would drive to Frankfort, KY to visit Rebecca Ruth Chocolates, where two twenty-something school teachers, Rebecca Hanly and Ruth Gooch opened a chocolate shop and in 1938 invented the Bourbon Ball. My last stop of the day, Kern's Kitchen for a Derby Pie – this beloved chocolate walnut pie is Kentucky's most treasured dessert – with good reason, it is mouthwatering!
And, now in the words of that Country Music Super Star from Kentucky – Billy Ray Cyrus …
You know what, I'm done, done, done
I'm gonna take my horse
To the old town road
I'm gonna ride 'til I can't no more…
Be well,
John
Email
info@godaytripping.com
Review Us!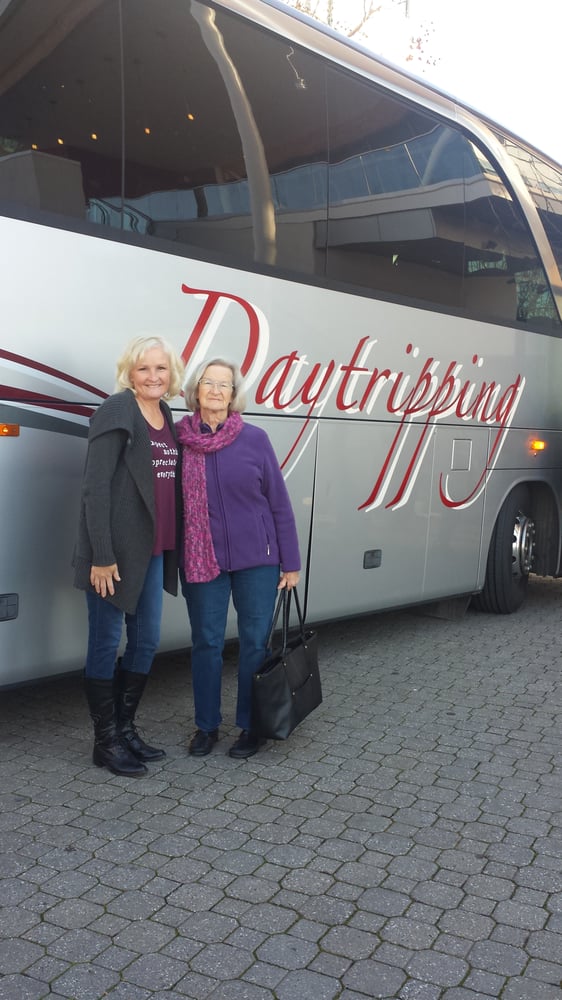 DayTripping
5 reviews
About Us
Travelers join Daytripping Destinations from all over the country. For flexibility, all our tours depart from major airport locations with the first night accommodations at a convenient airport hotel.
Tour Reviews
I love traveling with Daytripping.
They are a class act.
- Karen Deets
Contact Us
6570 Oakmont Drive, Suite 100A, Santa Rosa, CA 95409