Guess What Day It Is: Week 23
Dear Daytrippers,
Roadside Attractions
Many of you, no doubt, remember all the times you asked me to stop at every silly roadside attraction and I never would… I apologize, and now see a certain charm in this random nonsense – possibly a sign that I am slowly becoming my parents – but I prefer to think it is because I am not on such a tight schedule and can pull over to take a gander at these fun works of 'art' without worrying about getting to the next stop on time. And there are some real gems – so this is only my first installment of these nostalgic, gaudy and yes, sometimes run-down paragons of off-road wonder you have to see. Having said that, I must tell you I felt a little silly taking these pictures but as it is a long-standing American tradition and I am your envoy, I did this for you – with love.
Bealeton, VA: Giant Roller Skate
Definitely a wonder of the modern world a giant 10-foot tall roller skate made entirely of wood and plaster graces the side of Highway 17 . The skate first appeared during the skating craze in the 1980s. And while the actual skating rink, Rollerworks Family Skating Center closed – the skate remains – awesome as ever! Bealeton is also home to one of the last barnstorming air shows in the US – but more about that later.
Waynesboro, VA: Cartoon Roadrunner
So cool, this 10-foot-tall version of the classic cartoon character, standing on a tree stump, with its familiar blue and purple colors and cheerful grin is my favorite. The students of Berkeley Glenn Elementary School adopted the cartoon Roadrunner as its mascot and a former alumni fiberglass artist, Mark Cline, created this masterpiece. I am told when the tarp was pulled from the statue on November 4, 2018, the crowd spontaneously shouted, "Beep Beep!"
Atlanta IL Hot Dog Man
Standing 19 feet tall and clutching a giant hot dog, this Paul Bunyon statue, not "bunyan" purposely spelled with an "o", to avoid any copyright issues, was created in 1966 as an eye-grabbing advertisement for Bunyon's Hot Dog stand. The Hot Dog Man was relocated here from it's original location in Cicero, IL and I think he found a great home. This little town is a treasure, with a Route 66 Museum, a 1950's diner and terrific murals. On our next Route 66 tour we will make a point to see as many of these "lumberman" statues as possible.
Manitowoc, WI: Bernice the Cow
Tan and white and larger than life. A giant Guernsey cow made of fiberglass, "Bernice," the dutiful mascot of the Cedar Crest Ice Cream Parlor has been here since the 1960s.
Manistique, WI: Paul Bunyan
The axe swinging lumberjack legend of folklore welcomes visitors to this historic lumber town, the "Home of Paul Bunyan." Maybe 15 feet tall the mountain man has watched over the community for years and in this time of Covid 19 Pandemic, Paul has donned a mask to encourage the community to stay safe. Manistique is also the site of the famous "Siphon Bridge." Built in 1919, the 300-ft. span used a novel engineering approach that didn't catch on. It's the only bridge in the world below the level of the water that surrounds it.
Collinsville, IL: Worlds Largest Ketchup Bottle
I know you will be sad to hear this – the bottle isn't actually filled with ketchup – but if it were it would contain the equivalent of 640,000 bottles of Brooks Old Original Catsup. Built in 1949 as a water tower for Brooks Catsup, the 70ft-tall tower is sitting on a 100ft platform along Highway 159. At one point this landmark was up for sale and even scheduled for demolition. But, through the efforts of a local group the bottle has been restored to its original appearance and placed on the National Register of Historic Places.
They have asked me to tell you that they are standing by waiting to meet you when we can travel again.
Missing you,
John
Email
info@godaytripping.com
Review Us!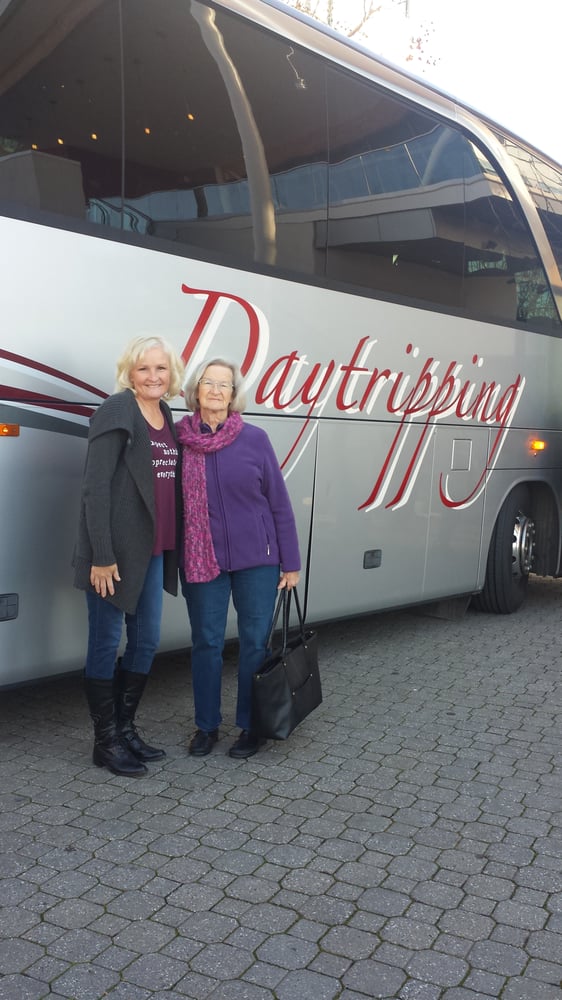 DayTripping
5 reviews
About Us
Travelers join Daytripping Destinations from all over the country. For flexibility, all our tours depart from major airport locations with the first night accommodations at a convenient airport hotel.
Tour Reviews
I love traveling with Daytripping.
They are a class act.
- Karen Deets
Contact Us
6570 Oakmont Drive, Suite 100A, Santa Rosa, CA 95409