Guess What Day It Is: Week 29

Dear Daytrippers,
My mother loved the dogwoods best of all and passed that pleasure on to me. Each year when the dogwoods begin to bloom I think of visiting Dogwood Canyon Nature Park to see them in all their glory but each year there are other places I need to be. This year, time on my hands, an RV to take me where I want to go and news that a rare white American bison calf was welcomed to the herd at Dogwood Canyon combine to give me the perfect excuse to make this the year. The entrance sign says, "Welcome to Paradise" and so do the dogwoods – they are heart-stopping.
Dogwood Canyon Nature Park is a work of art located deep in the Missouri Ozarks sprawling across the Arkansas Missouri border with stunning views of the Ozark Mountains. The 10,000-acre expanse of unspoiled Ozarks landscape, owned by renowned conservationist Johnny Morris, Founder/CEO of Bass Pro Shops and operated by the not-for-profit Johnny Morris Wonders of Wildlife Foundation serves as a thriving habitat for native flora and fauna. Aside from a few amenities to make the Dogwood Canyon more accessible to guests, the rugged land has been left untouched and, with just a little imagination, you travel back to a time when European settlers first entered the area or, even further, to explore the mark that Native Americans left on the Missouri hills and hollows.
When Daytripping visited Dogwood Canyon we took the tram around the park. Today, I decide to hike through the buds and blossoms, experience springtime in the canyon at my own pace. There are more than six miles of hiking pathways that weave throughout the park, winding past waterfalls, by streams and over quaint hand-made bridges – including an authentic covered bridge, gorgeously crafted by the Amish folk who live nearby. I linger by the tranquil turquoise Six Stump Spring, looking closely to see where the water comes out of the ground. The trail passes by Glory Hole, the breathtaking home to giant rainbow trout – the reflection of light and depth of the water create a perfect blue-green color – here you can see a cave in the mountain behind the waterfall – the 10 year old in me wishes I could climb up there and explore. Again at Fire Pit Cave, a sign warning me against climbing the rocks for a closer investigation – it is tempting. When discovered this cave contained rare stone beads and well-preserved charcoal samples dating back 3,000 years. Heading back, I stop to explore the Hope Wilderness Chapel – modeled after historic churches from the 1800's the chapel was hand-crafted from local materials including native short-leaf pine logs, rough-sawn oak flooring with a red cedar ceiling – postcard-perfection.
Over the years the quality and quantity of the wildlife population at the park has increased dramatically – bison, longhorns, elk, whitetail deer. But the star of the show this spring is a new baby – a white bison called Takota, a Sioux word that means "friend for all". According to traditional Native American teaching spanning thousands of years, the white bison is a sacred animal. Once an exceptionally rare occurrence, the birth of a white bison promotes prayerful communication between Indigenous people and the Great Spirit, and was also a sign of peace and good fortune.
Two centuries ago more than 30 million American bison roamed the plains but were hunted to near extinction. Experts estimate that by 1900, only a few hundred bison remained. Thanks to intentional efforts led by conservationists – such as Ted Turner, where thousands of the iconic beasts thrive on his 100,000 thousand acre Flying D Ranch in Montana – the enormous shaggy animals are making a comeback and now there are about 350,000 living in the United States including this new little guy at Dogwood.
It is late afternoon now and I am starving so I head to the Mill and Canyon Grill – this rustic elegant space with floor to ceiling windows overlooking a creek and cascading waterfall with it's Ozark inspired menu is the perfect ending to a day on the trails and I wish for a minute that I could dine inside but find a nice spot outside and am content. I do hope that Takota never wanders up to the Grill – the menu here prominently features bison burger – I feel a little twinge of guilt – but I order the bison burger anyway – with bacon, crunchy onions and pepper jack cheese – oh-so-delicious – followed by blueberry cobbler – best meal ever.
I am leaving Dogwood Canyon Nature Park feeling full and happy, whether from the great meal, the hope that the good omen of the rare white bison will bear out, or the chance to commune with my Mother's memory and enjoy the blessings of Nature. Back on the road again, headed out to find more signs of better days ahead.
Hope to see you soon!
John
Email
info@godaytripping.com
Review Us!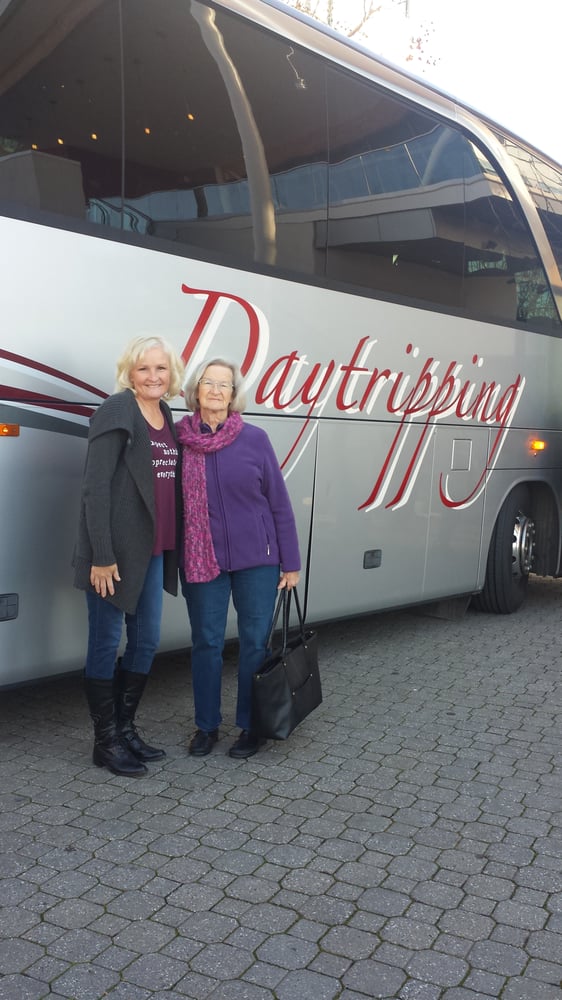 DayTripping
5 reviews
About Us
Travelers join Daytripping Destinations from all over the country. For flexibility, all our tours depart from major airport locations with the first night accommodations at a convenient airport hotel.
Tour Reviews
I love traveling with Daytripping.
They are a class act.
- Karen Deets
Contact Us
6570 Oakmont Drive, Suite 100A, Santa Rosa, CA 95409